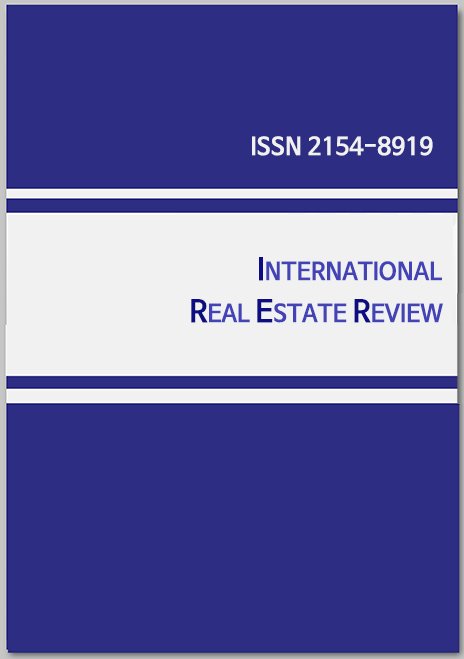 Editors: Tien Foo Sing , Ko Wang.
ISSN: 2154-8919
Special Issue Call on "Real Estate Debt"
Past Winners of the GSSI IRER Best Paper Awards
The journal seeks to advance knowledge on real estate by publishing theoretical and empirical academic research papers concerning international real estate markets. Market and policy papers introducing and analyzing unique operational and institutional settings, policy issues and real estate related laws and regulations of regional real estate markets are also welcomed. The International Real Estate Review (IRER) is indexed and abstracted by the Emerging Sources Citation Index (ESCI, a part of the Core Collection of the Clarivate Web of Science), the Scopus, EBSCO, and RePEc. Financial and editorial support is provided by National University of Singapore, Global Social Science Institute, and Johns Hopkins University.
Full Text of Journal Articles
This Website offers the full text of all recent and past Journal articles published. Files are in Adobe PDF (portable document format).
You will need to read our Copyright Notice for more information. The page also contains a link to Adobe Systems, Inc.'s website so that you may get the browser plug-in necessary for downloading, viewing, and printing the articles.
Publication Ethics and Malpractice Statement

If you see the above logo after an article abstract, it signifies that the full text of a particular Journal article is available for download.
Current Issue


Now available with full texts for downloads, viewing, and printing. Please refer to the Copyright Notice.

Past Issues


Submit Your Paper


Or answer our call for papers to be published in forthcoming and special issues of the IRER.

How to Subscribe


Click here to learn how to get issues of the IRER delivered to your door!

Editorial Policy


Our Hosts


Comments


Copyright


Link to Us


Conference Notice